And so we're back with our Book of the Month, plus a special treat
And this special treat is a short Q&A with the author of one of the Books of the Month – a second is coming verrry soon. Because, yes, as you might have guessed, I couldn't settle for only one book – nothing new then – and here are the two that took my breath away in October.
My first favourite book in October is "I Hope You Dance" by Beth Moran. I truly can't find enough words to describe how much I loved this novel, it has everything that I'm looking for in a book and much, much more. I cried buckets when reading it, and I laughed out loud as well, I gasped, I cringed and it awoke in me those kind of emotions and feeling that I didn't know I can have – it's a wonderful book that everybody should read, and here is my review.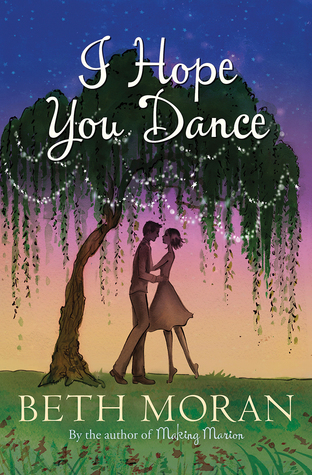 The second book was exactly as emotional, humorous and hilarious, and it introduced a bunch of the most wonderful, vivid, believable characters ever! This story perfectly blends everything that I so adore: romance, brilliant humour, families and their little dramas, and some deeper issues as well. It really starts to feel like Christmas! Ladies and gentlemen, here is to "One Wish in Manhattan" by Mandy Baggot!
I am also extremely thrilled to welcome Mandy Baggot herself to my blog! Here is a short Q&A with her about "One Wish in Manhattan" – enjoy!
1. "One Wish is Manhattan" is a lovely and complex story – where does the inspiration come from?
 I have no idea *laughs*. It's my very first attempt at a Christmas book and the idea did scare me a bit! I think I
looked at it, first and foremost, as a feel-good story that could be set at any time of year, but once you add in the location, the snow and the uplifting themes it changes into something a little bit magical. The New York winter setting just enhances the whole novel and makes everything more sparkly!
 2. We know that your daughters were the inspiration for Angel, but who inspired the other characters?
 Oliver never intended to come out like Scrooge but readers have likened him to the Dickens character! I just wanted to match two capable characters who underneath it all were vulnerable people just doing the best they can with the situations they find themselves in. Both Hayley and Oliver are strong characters on the outside but marshmallow on the inside.
 I don't think either of the characters were particularly inspired by anyone – it's my active imagination at work. Although I would quite like Chris Pine to play Oliver in the movie!
3. What is your favourite scene in the story?
 Just one?! I actually have two favourite scenes. One of them is when Hayley first meets Oliver at the fire exit of the Chinese restaurant. I had great fun perfecting that scene. And the other one is obviously the whole McArthur Foundation fundraiser night! I can't give too much away but, for me, it's like that perfect Dirty Dancing end scene where everything comes together!
4. What are your 5 top places to see/visit in New York in winter?
 I researched all the places Hayley, Angel and Oliver went in the book and picked the sights I would like to go and see:-
              1. Statue of Liberty
              2. Empire State Building
              3. Ice skating at the Rockefeller Centre
              4. Greenwich Village
              5. Horse and carriage ride around Central Park
5. Is writing a book set around Christmas different to writing other books? Special?
 Hard! Very hard because you're writing it in summer. It's quite easy to think of warmer climes when you're cold in England because most people want long summer days and it's easily conjured up. It was really difficult to put myself in the mood for winter when we were having a heatwave! I lit some Christmas scented candles, put on the Michael Buble Christmas album and some New York jazz and shut all the blinds. I think it worked!
6. What was your most favourite and least favourite aspect of writing "One Wish in Manhattan"?
 For me the joy comes in creating the characters. I'm not a planner. I don't have a huge outline on the wall with Post It notes all over it, I just start writing. I can't bear to know what's going to happen in the novel before the characters do. Obviously I know we're going to have a romance and a happy ending but as for the bits in between, they really do come in the writing process. I don't really know my characters completely until I've spent time with them.
 The least favourite part is always the editing. Editors do a great job making the book as polished as it can be but us writers don't necessarily think that at the time!
7. What's been the most exciting moment of your writing career to date?
 I have two moments I've most proud of. The first one was back in 2012 when I won the Festival of Romance Innovation in Romantic Fiction award. It wasn't an award for my writing, it was an award for my hard work in trying to do something different to promote my books. I'm a great fan of social media but I don't just want to hit people with a hard sell, I want to give them something in 140 characters that will make their day a little better. I like cheeky tweets, tweets using popular culture and trends. A smile at one of my tweets is as good as a sale! And I want to be memorable!
 The other is Truly Madly Greekly giving me my best Amazon UK ranking to date. It hit the dizzy heights of #24 on Amazon UK this summer. Starting out as a full time writer in 2010 I never would have dreamed I'd be reaching those figures. And I couldn't have done it without all the amazing support I get from book reviewers, readers and my fabulous street team, The Bagg Ladies. A huge thank you everyone!